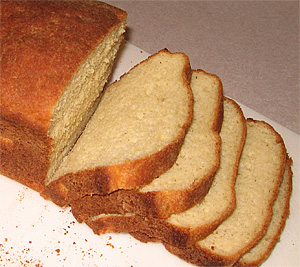 [Click here to go straight to the recipe]
Since removing all the gluten from our home, I now have a new appreciation for our "daily bread." At first, I was the only one not eating gluten, so I tolerated the Pamela's Products mix
and decided that it didn't really matter if my bread tasted great or had a nice texture. The Pamela's mix wasn't bad, but it was very dense and quite a bit sweeter than I liked. Soon, however, we realized we needed to take all the gluten out of the house. Our "daily bread" suddenly became a big issue.
For the first couple of days the boys didn't complain too much, but it wasn't long before two-year-old Hosea just decided that he wouldn't eat it. The other two boys didn't refuse, but they were certainly less than enthusiastic. To make things more difficult, Kevin is a "recovering" diabetic (he is no longer taking medication, but controlling his diabetes solely with diet and exercise), and the Pamela's bread is extremely dense. In order to make a sandwich with a good balance of protein and carbohydrates, he had to eat just half a sandwich stacked with the amount of meat and cheese he would normally eat on a whole sandwich. We definitely needed a new solution to the bread dilemma.
The first thing I tried was modifying the Pamela's mix. I added various combinations of more liquid, more yeast, and more starches, but all my attempts completely failed. Several times, I ended up with gummy messes that were completely inedible.
Next, I tried the Gluten Free Cooking School Finally, Really Good Sandwich Bread recipe. This was a huge improvement over the Pamela's, with a great flavor and light texture. My only complaint was that unless it was thickly sliced, any condiments like mustard or mayonnaise seeped through and got all over our hands. While this recipe was definitely my fall-back plan, I decided to keep looking.
One of Kevin's favorite sandwich rolls (in the pre-gluten-free days) was Aunt Hattie's Potato Hamburger Buns. With that in mind, I did a search for "gluten free potato buns" and came across a recipe for Gluten Free Potato Bread. This was a great base recipe for me to begin tweaking, and after much experimentation, I came up with a bread that my whole family loves. Not only can it still hold in the condiments when sliced thinly, but it is also light, soft, flavorful and stays fresh in the pantry for a few days. To top things off, one slice is just a little more than one carbohydrate exchange, which works well for the diabetic diet.
There are two things about this recipe that are different from most other gluten-free bread recipes: the size of the loaf and the baking method. Most of the bread recipes I have found make just one loaf, baked in a Large Loaf Pan
. I resized my recipe to make two smaller loaves, baked in Medium Loaf Pans
. The baking method involves placing the loaves in a non-preheated oven (adapted from Carol Fenster's French bread recipe) in order to speed up the baking time and get a thoroughly cooked loaf without over-browning the crust. I get great results every time, so let me know if this works for you!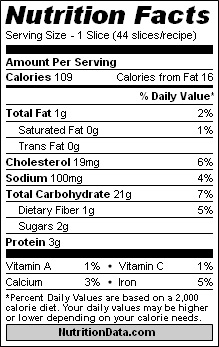 Gluten Free Potato Bread
2 ¼ cups warm water (about 110°F)
2 tablespoons active dry yeast
4 ¼ cups Esther's Gluten Free All Purpose Flour Substitute
1 ½ teaspoons salt
1 ½ tablespoons xanthan gum
2 teaspoons baking powder (optional)
¾ cup instant mashed potato flakes
¾ cup instant nonfat milk powder
4 large eggs
3 tablespoons vegetable oil
¼ cup honey
Proof the yeast. (Stir yeast into the warm water, and allow to sit for 5-10 minutes. Mixture should become foamy ( photo); if it doesn't, your yeast is not active and needs to be replaced.)

While yeast is proofing, mix together dry ingredients in the bowl of your stand mixer. (I use a wire whisk to make sure everything is thoroughly combined. If the xanthan gum is not well incorporated before liquid ingredients are added, you will end up with gummy clumps that won't disolve.)
TIP: During this step, you can make your own time-saving bread mix. Just place a ziplock bag next to your bowl, and each time you measure an ingredient into the bowl, put the same amount into the bag.  Store these dry ingredients to use the next time you make bread.

Add eggs, oil, honey and water/yeast mixture to dry ingredients.

Using dough hooks, begin mixing on lowest speed until all ingredients are combined ( photo). Then, increase speed slightly and beat for about three minutes. (To me, the dough looks like regular yeast bread dough that still needs a cup or two of flour, or like a really thick quick bread batter.)

Divide dough equally into two, greased Medium Loaf Pans ( photo). With wet hands, press the batter into the pan, smoothing the top as much as possible ( photo). You may need to periodically re-wet your hands. (For a softer crust, rub 1/2 teaspoon of oil on the top of each loaf.)

Loosely cover pans with plastic wrap and let sit in a draft-free area for fifteen minutes. Then, remove plastic wrap, and place your bread pans on the middle rack of your oven (DO NOT PREHEAT).  Set the oven to 425 degrees, and set a timer for 35 minutes. Check the tops at 25 minutes, and if they are browning too quickly, cover with an aluminum foil tent ( photo).
TIP: If the bottom crust of your bread browns too much, place a baking sheet on a second rack just below your pans to act as a heat shield.

Take bread from oven, and immediately remove loaves from pans and place on a wire rack. Cool completely before slicing.