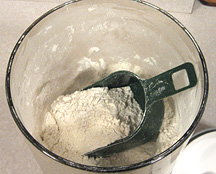 When I removed gluten from my diet, one of the first things I looked for was a substitute for the standard all-purpose wheat flour I used on a regular basis. I quickly found that everyone has their own idea of what such a substitute would be. I also discovered that there is no perfect substitute. However, there are definitely mixtures that come pretty close (scroll down for my recipe).
The first mix I tried was Bob's Red Mill All Purpose Baking Flour. It was horrible! Their mix uses Garbanzo/Fava bean flours, which have a very distinct flavor and aftertaste. I've read some reviews of the product, and it seems like there are two camps: those who love it and those who hate it. I'm definitely in the second camp!  
Then, I visited the Gluten Free Cooking School blog, and found some recipes for flour substitutes. I like to avoid soy as much as possible, so I tried the Gluten Free, Soy Free All Purpose Flour Mix. This was a big improvement over Bob's Red Mill, but had a distinctly corn flavor to me, so I tried taking out the masa flour. First, I substituted quinoa (I know some people love it, but it tasted gross to me—in fact, I couldn't even stand the smell of it), and then I just used a little extra of some of the other ingredients, but the cornstarch still gave it a taste that seemed "off" to me. While I ultimately didn't end up using the mix, I learned some great information about ratios of flour to starch.
Next I found the Gluten Free Gobsmacked blog, and the flavor of her flour blend was much more appealing to me. This was my first introduction to sweet rice flour (also called glutinous rice or sticky rice), and I was quite impressed. However, this mix was very short on (or more like completely lacking) whole grains.
By this point, I had gotten a feel for the different options and decided to try my hand at my own all-purpose flour substitute. I wanted to use around half whole grain flours for taste and nutrition, and half starches that would give a nice texture and lightness to the finished product. In the end, I think I found a really great balance (at least to my taste buds).
Esther's Gluten Free All Purpose Flour Substitute
3 parts brown rice flour
2 parts sorghum flour
2 parts sweet rice flour (also called glutinous or sticky rice flour)
1 part tapioca starch (also called tapioca flour)
1 part potato starch (do NOT use potato flour, as it is very different)
I formulated this recipe in parts so that you can make any amount of all-purpose flour you want. If you only need a small batch, use a 1/4 or 1/3 cup measuring cup. If you want a whole canister, use a 1 cup measuring cup, or even more.  Whatever measuring device you decide to use, just add each ingredient according to the number of parts in the recipe.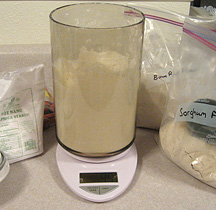 Rather than using measuring cups, my favorite way to make up the mix is to use a kitchen scale (my husband has Type 2 diabetes, so we already had one on hand for measuring his portions—more on that topic in a future post). The advantage of the scale is that you can just pour the different flours into your container without having to measure and level each scoop. Just pick an amount (i.e., 100 grams or 12 ounces) to equal one part, and add each ingredient according to the number of parts in the recipe. If you want to invest in an inexpensive and extremely functional scale, I've been very happy with my EatSmart digital scale
.
It is very important to thoroughly combine all the ingredients. I start mixing with a wire whisk, and then put the lid on my container and shake it for a while. You want to make sure that there are no streaks of varying color when you are finished.
I've used this mix in my amazing Gluten Free Potato Bread, Gluten Free French Bread, and Gluten Free Maple and Pecan Waffles (recipes coming soon!), and also substituted it for regular flour in normal recipes.
Just remember that you must use Xanthan Gum and/or Guar Gum along with this flour mix if you don't want your finished product to crumble and fall apart. The general rule of thumb is:
1 teaspoon gum per cup of flour for yeast breads and pizza dough, and
1/2 teaspoon gum for quick breads, muffins, cakes and cookies.
When using these gums, be sure that you mix them into your dry ingredients very well (I use a wire whisk) before adding any liquid. Otherwise, you will end up with gummy clumps that won't dissolve. I purchase Xanthan Gum at my grocery store, but it can also be bought online. I've never personally used Guar Gum, but I've read that you can get great results by using equal parts of xanthan and guar gum.
I hope this mix will work well for you also.  If you find it lacking in some way, you can always experiment with different combinations until you get a flavor and texture that you really like. Everyone's tastes are different, so go with what you enjoy. You may have some flops along the way, but don't give up!  I'd love to hear how you like this mix and what changes you make, so feel free to add a comment below.
So where do you buy all the gluten free flours? Well, some grocery stores and health food stores carry them, but they are quite expensive. I've finally settled on buying my brown rice and sorghum flours in 25 pound bags directly from Bob's Red Mill. When it arrives, I use my scale to separate it into 5 pound bags which I vacuum seal with my
Food Saver
. If you don't have one, I'm sure you could use ziplock bags. We do have a second refrigerator, so I am able to keep my flours there.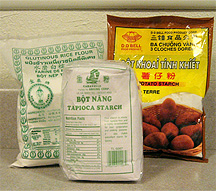 I've read that these flours tend to spoil more quickly if they are not refrigerated.
Although all the flours and starches I use can be purchased from Bob's Red Mill, I've found that I can get great deals on the glutinous rice flour, tapioca starch and potato starch at the Asian market around the corner. I know that some people are concerned about using flours that have not been labeled as gluten free, but I have not had any reactions from these particular products. I did see sorghum flour there as well, but it had a disclaimer that it was produced on the same machinery as wheat, so I don't use that one.